Working...

Minnie
This year we have adopted a calf through the Adopt-A-Cow program through the dairy council based in St. Louis. Minnie is the name our students have chosen for our calf. The farm where Minnie lives is located in Pontiac, IL. The farm is over 100 years old and has over 150 dairy cows that live there! Farmer Don Mackinson and his family operate the farm.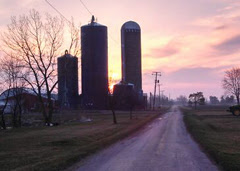 Minnie is an Ayrshire, a breed that is known for it's red and white markings. Each month, Farmer Don will send us updates and pictures of Minnie so we can watch her grow. He said Minnie is curious and friendly and LOVES to eat!
The cows on Farmer Don's farm are milked two times a day, every day of the week!